CHESTER'S STORY!
"Chester is now 4 years old, we took him on at the age of 6 months and he was a very scared and nervous dog. Although he eased into our family very quickly he still has huge nervous issues with strangers and other dogs.After trying various ways to help him, socialisation, personal training etc, nothing has cured his nerves.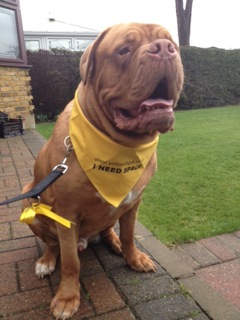 Just over a year ago we discovered Yellow Dog UK, and it's the best thing that could of happened for Chester. As he is such a large breed its not automatically obvious to people that Chester is so nervous. They see him on a lead and don't think twice about letting their dogs run freely up to him. It would put Chester into a state of panic, his tail would go between his legs and he'd circle me looking to escape, so sad to see him so vulnerable.
We started off with the yellow ribbon and bandana, and that's when the Magic started. I gave us a voice. When we walk (which is over a field/park behind our house) I spot a free running dog and sit Chester calmly next to me. I then calmly shout over to the owner, "Could you please re call your dog". In most cases the owners did just that, some would say their dogs are ok in which case I would say "It may well be but my dog is a very nervous dog and your dog is causing him unnecessary stress."
We started to realise because of his size people were interested in hearing this, and often stopped to question us which gave us the opportunity to spread the meaning of the yellow ribbon. I started to grow more confident on our walks and because of this Chester is more at ease on his walks. I asked Yellow Dog UK for some posters and ribbons and asked the forest commissioners permission to place them on their information boards. We then spent a day putting them up and handing out ribbons to people that were interested. We socialize with a lot more people now because of Yellow Dog UK, and the best part is that we have helped other people and their dogs by spreading the word".