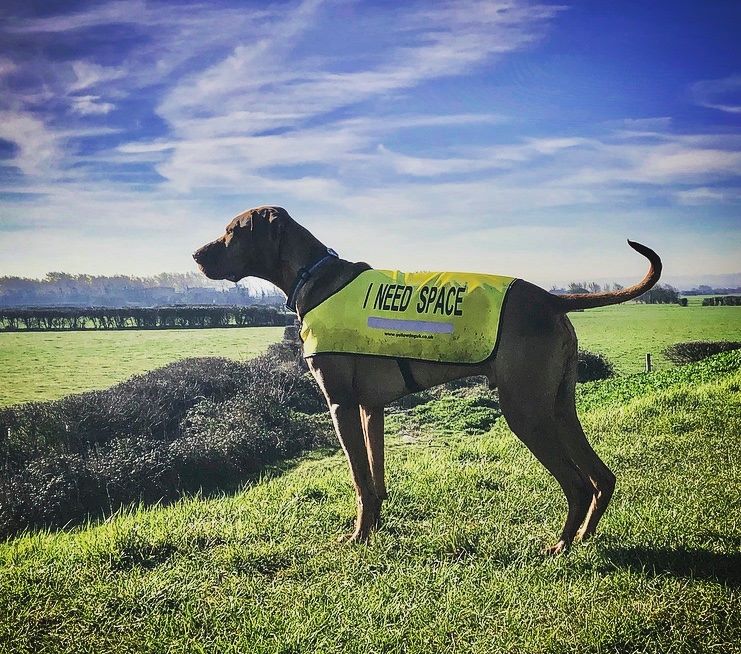 Devon is nervous around dogs he doesn't know and feels safer when he is given some space – the "I NEED SPACE" products help members of the public to recognise this on our walks. We are working on socialising him with appropriate dogs and he is capable of making friends when it's done slowly and safely.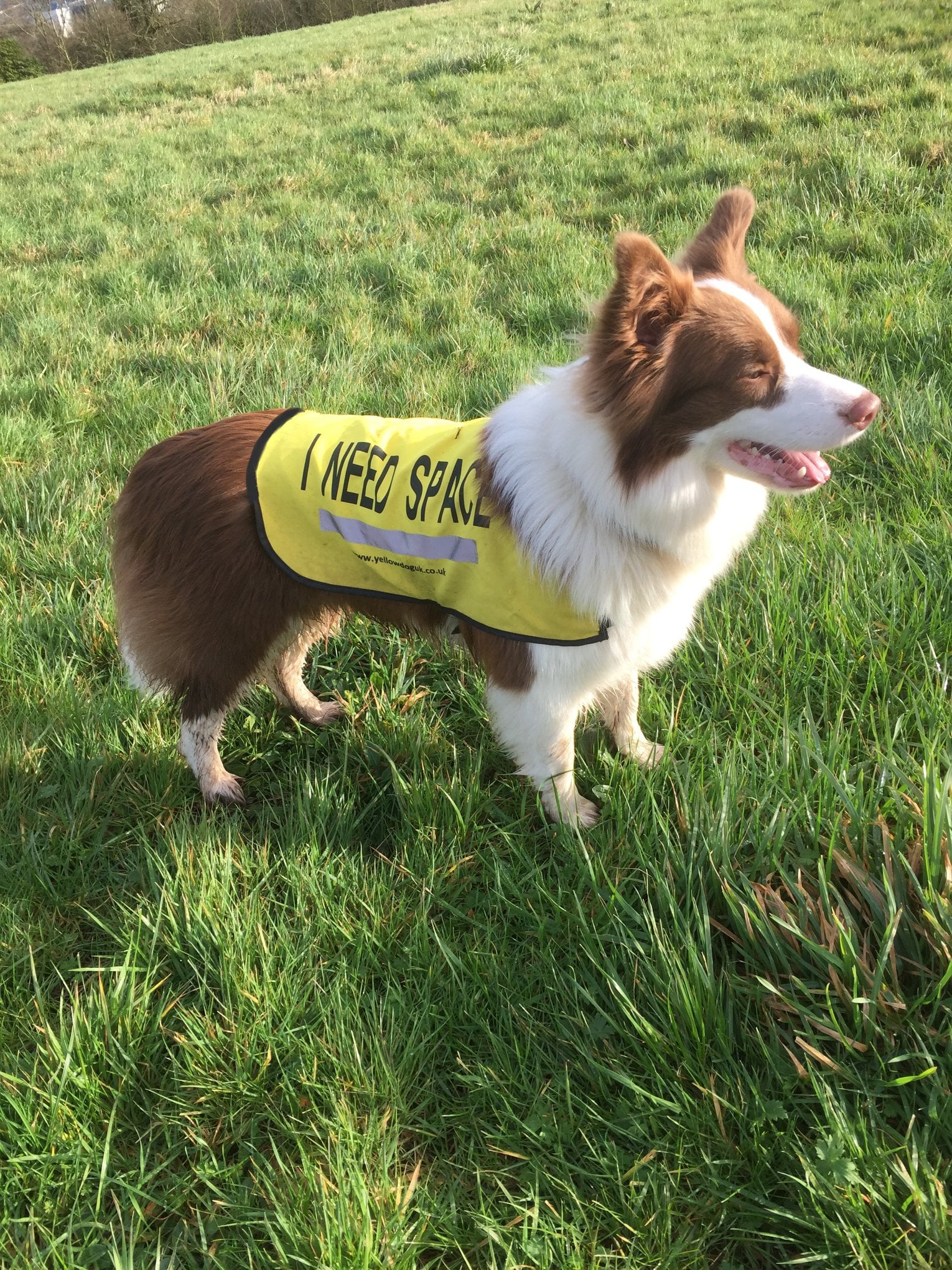 I purchased an I NEED SPACE vest a few months ago for my 2 yr old border collie who was attacked at 9 months and since has been scared and frightened of other dogs becoming aggressive if she sees one. Since wearing the vest I've noticed people are beginning to give her the space she requires when out on a walk. When they see the yellow vest they either put their dog on a lead or walk in the opposite direction. She has become much more confident at going out for a walk due to this visible warning to others.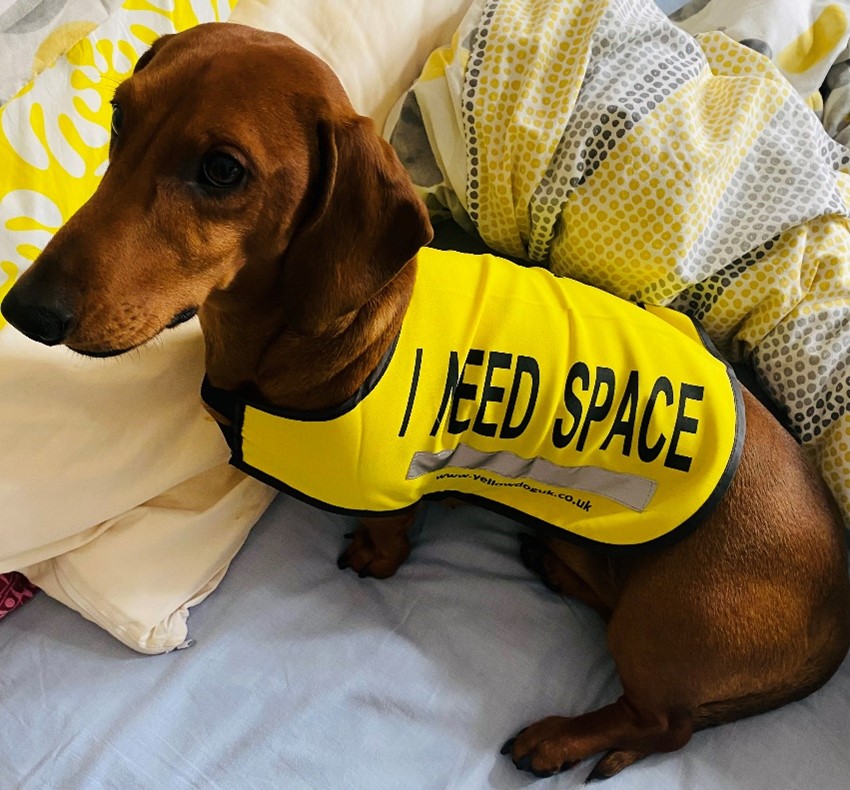 Thank you again! Rupert loves it and hopefully now it'll get him the space he needs while working on his confidence!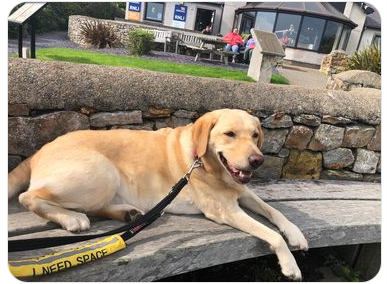 We have had a lovely trip away to Anglesey and Celyn enjoyed that people and dogs gave her some space Thank You Yellow Dog UK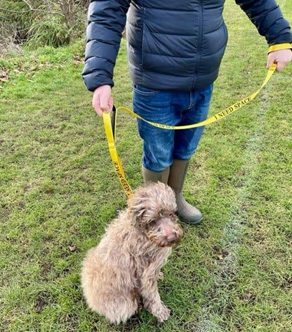 Loki is very nervous on our walks, loud noises bother him and he doesn't like strangers rushing up to him. The double-handle lead lets everyone know that he needs a bit of space and it made our walk today so much easier as I had much more control. It made me feel a lot more confident. Thank you so much for introducing the UK to Yellow Dog and spreading the word that yellow dogs need more space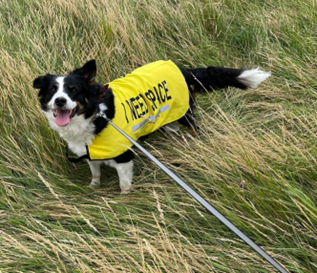 I've just ordered another I NEED SPACE coat for my rescue border collie. Mine has seen better days now as has got a bit stained and torn but my word how it has been a God-send. Being a herding dog, my Floss doesn't like joggers, especially when they approach from behind and suddenly are there, making me jump, never mind the dog. As their movement triggers the herding instinct which can be VERY strong in Border Collies, especially ex working dogs like Floss.  More and more people are becoming aware of the Yellow Dog campaign and I promote it whenever I can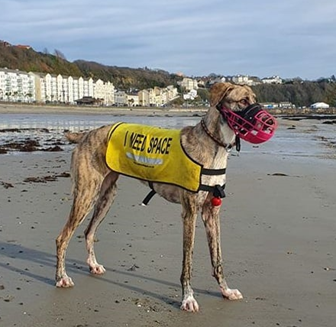 Luna's "I NEED SPACE" Yellow Dog UK vest works wonders! She's only reactive on lead but it lets people know to keep their distance. Just wanted to say thank you so much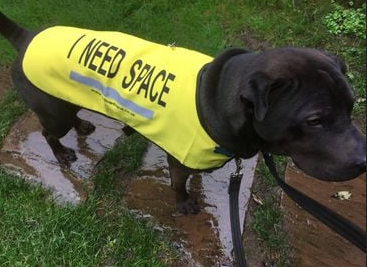 Major is a rescue who has had a really hard start in life. Abandoned, starved and little contact with the outside world which makes it such a scary place to be. Major finds it difficult in any new situation and the vest has really helped him in our little village. People are now more aware of not to approach him without asking first and he is often admired by people while we practice our moves outside the home. This has been a great confidence for him and even when he finds the world a little scary people and other dogs give him the space he needs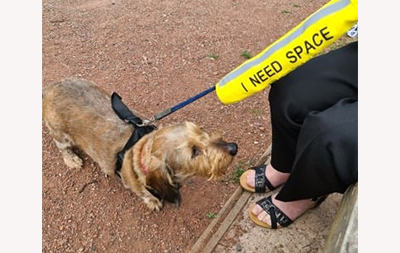 This my Dachshund Toby, his lead cover informs people he needs space and it is also now helping his nan who has been shielding since March and she has no confidence & anxiety when she's out. It's been working, people have kept away from both. Lots of positive comments & saying it's such a good idea, for social distancing. Who'd have thought when I brought it last year it would be helping other members of the family.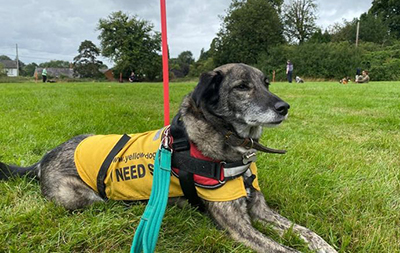 This is Yoshi rocking his Yellow Dog top at training (controlled environment to be around other dogs). It's really cool that most of the regular dog owners in the woods near me now recognise him from a distance because of the vest and kindly put their dogs on leads to pass us and allow me to continue his coping training as they pass. A number have asked, at a suitable distance, about the vest and I've explained the different colours and they all think it's a fab idea. Between the training, the vest and the education of other walkers to what it means, walking this lad is no longer the high stress activity it used to be. Thank you for helping us make walks for us both more enjoyable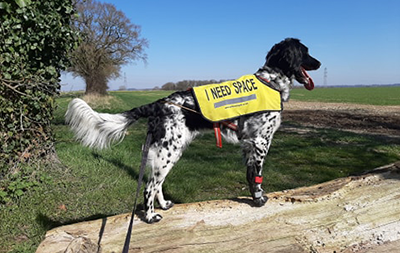 We love using her Yellow Dog UK "I NEED SPACE" vest at the moment as she needs a bit of space so we can train without getting too distracted, and to remind people of social distancing. She has worn it in muddy fields and while swimming and it's still bright and easy to read. She is really growing in confidence and has recently passed her level 2 Foundation Built Parkour.
We had to go on a vets visit today and the owners and vets were so much more considerate around Wrenna making the experience less stressful for her.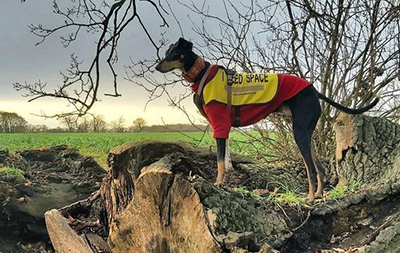 This is Bracken wearing his "I NEED SPACE" vest. He's fear reactive to other dogs after being bitten. The vest is making such a difference to our walks and reducing Bracken's reactivity (and reducing my anxiety!)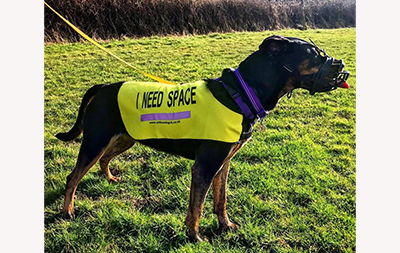 Now that Rhea is wearing a Yellow Dog UK "I NEED SPACE" vest she has more space to enjoy her walks. The yellow vest helps members of the public recognise that there are times when a dog needs space.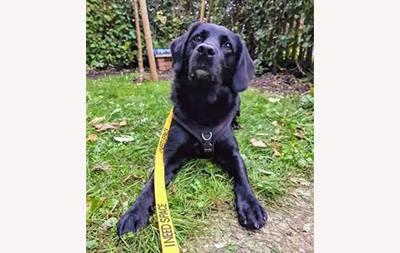 I just wanted to say how much the yellow I NEED SPACE dog lead works brilliantly… Monty is 6 years old, has severe hip dysplasia and arthritis, he is also entire, and we got this lead 2 months ago to stop other dogs running over to him before I can alert the owners. He still gets to play with plenty of dogs, once we have established a friendly consensual greeting whilst on his yellow lead. We use the yellow lead for most walks where we might meet new dogs and it is great because when we see another dog I just call him back, put his yellow lead on, and we can walk past other dogs without having to explain that he needs space for all of the above reasons.
I wanted to share a pic of Sid, my 5 year old Boston Terrier. He's a rescue dog, who we've had for 17 weeks now. He's scared of other dogs and this is a fantastic way of letting others know to keep their distance. Most dog owners take note, but you'll still get the few who say how friendly their dog is – that's fine, but that's not the problem! Today was the first time we took him to the coast and he enjoyed a little dip too. We start some dog training with a behaviourist soon, so this will definitely help! I don't go anywhere without out it.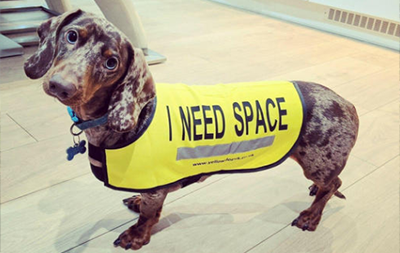 We went for a walk today and every dog was off lead, every single owner saw his vest and put their dog on a lead until they went past – it's great, I felt so de-stressed and was able to enjoy our walk for the first time in ages!
The "MY DOG NEEDS SPACE" yellow tabard is really helpful when we are out and about. Here's me and Panda my beautiful boy. He's a Romanian rescue.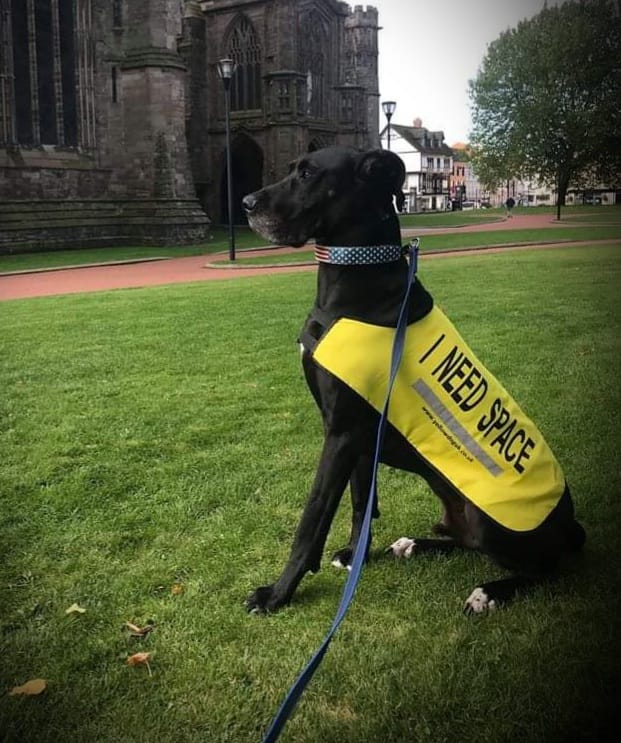 I ordered two of the I NEED SPACE vests for my rescue Great Danes who are in training and they have worked a treat! I was able to walk around town and in shops without being hounded by people wanting to touch my dog, and other dog owners gave us some space. So many people think it's ok to reach out and grab my dogs, which terrifies my girl and unnerves my boy. I managed a lovely walk with both and people respected our space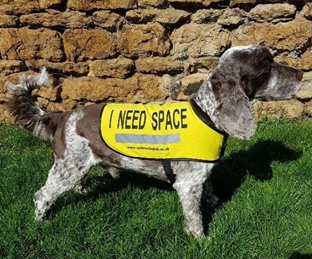 As a veterinary nurse I feel it's really important to educate clients on Yellow Dog UK – being the owner of a nervous dog myself the project has been invaluable!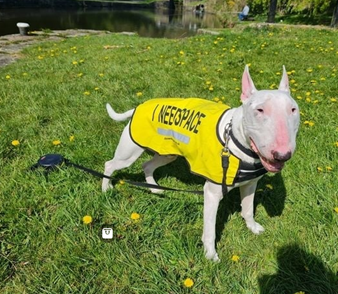 We are so grateful for Sprocket the English Bull Terrier's "I NEED SPACE" vest! We are finding it is really helping in most situations for us to be given some courtesy and space!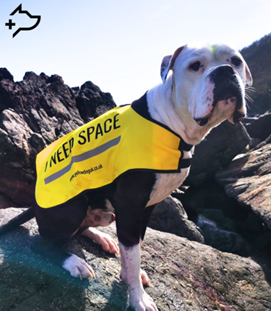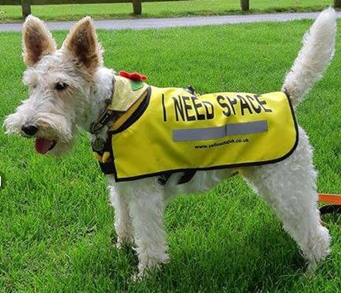 Today, first time out in the new jacket, we were like Moses, we parted the people – they gave us room, less stressful for me and for Phoebe and lots of people came and asked what is was about, great result – very pleased.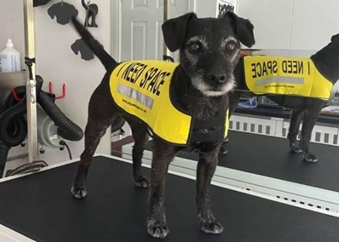 An amazing walk in our "I NEED SPACE" vest today. A fairly busy route which we would normally avoid. The vest is bold enough that people can see it in plenty of time to collect their dogs and give us plenty of space when they pass. It really is a game changer for us. I genuinely feel he was more relaxed, probably because I was more relaxed.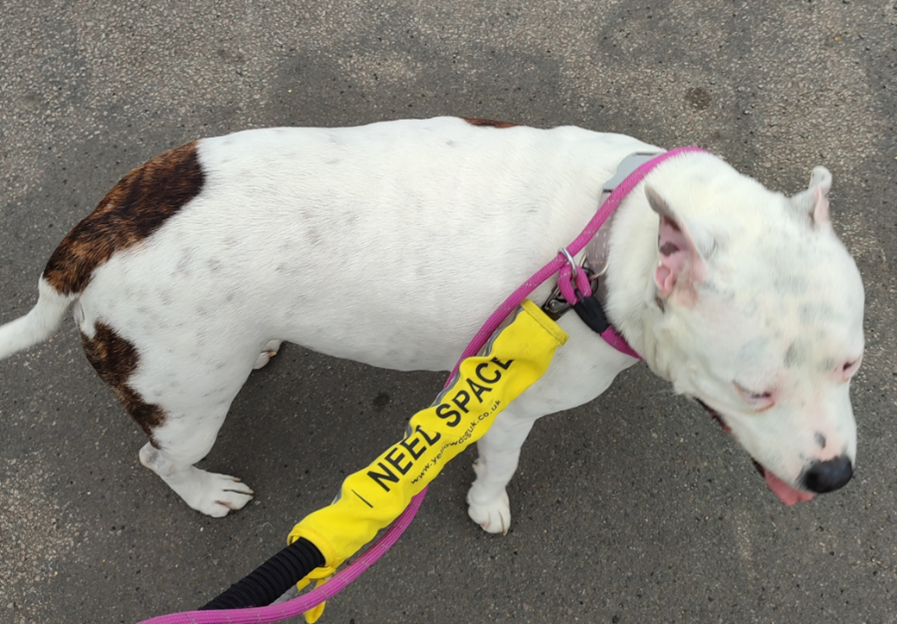 As promised, here's a couple of pics of my gorgeous Nellie Dean with her Yellow Dog lead sleeve. It really works and is so brilliant! Thank you!